Nyhetsbloggen
Måndagskollen säsongen 2023 – Vecka 38
Andreas Agrell
25 september, 2023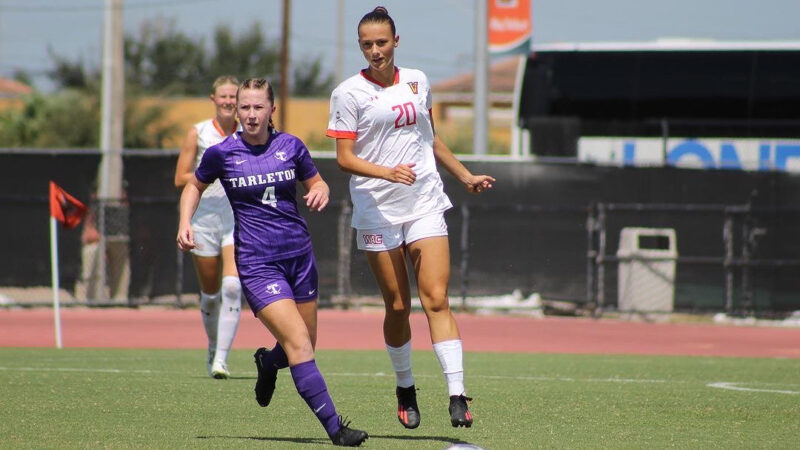 Måndagskollen säsongen 2023 – Vecka 38
Konferenserna i full gång när vecka 38 summerades. Detta innebär för de allra flesta något kortare resor då man möter lag i närliggande delstater och lag man möter år efter år. Upplagt för heta rivalmötet med andra ord!
Ytterligare en fin vecka från våra Athleticademix-lirare där det fanns några godbitar att plocka fram. Nere i Texas stod Linnea Eld för ett mycket vackert frisparksmål i deras 1-0 seger hemma mot Abilene Christian! En annan sekvens som gjorde oss riktigt glada här hemma var Lia Häggströms mål för sitt Christian Brothers University. Det som stack ut med det här målet var att det var ett mål signerat Athleticademix fullt ut då Alice Legndedahl stod för assisten till Lia. Vackert tjejer!
I Colorado fortsätter vår poängmaskin Alex Andersson leverera. Han öppnade upp målskyttet när hans UCCS slog Westminster med 2-1!
Utöver det hittade även Cajsa Kronström nätet och vi hade sju spelare som bidrog med assist i veckan. Läs om alla idorttare nedan i vanlig ordning! 🙂
NCAA D1
Spelare som gjort mål under veckan
Linnea Eld- University of Texas at Rio Grande Valley

Detta var Linneas andra mål för säsongen.
Spelare som hållit nollan under veckan
Alexandra Blom – James Madison University

Detta var nolla nummer 5 som Alexandra höll.

Kajsa Pruner – University of Central Arkansas

Precis som för Alexandra ovan var detta också nolla nummer 5 för Kajsa.
Spelare som startat under veckan
Spelare som gjort inhopp under veckan
---
NCAA D2
Spelare som gjort mål under veckan
Lia Häggström – Christian Brothers University

Lias första mål för i år.

Cajsa Kronström – Coker University

Cajsas första mål på college!

Alex Andersson – University of Colorado at Colorado Springs

Alex femte mål för i år!
Spelare som gjort assist under veckan
Spelare som startat under veckan
Spelare som gjort inhopp under veckan
---
NAIA
Spelare som hållit nollan under veckan
Spelare som gjort assist under veckan
Spelare som startat under veckan
Spelare som gjort inhopp under veckan
---
NCAA D3
Spelare som gjort assist under veckan
Spelare som startat under veckan
Spelare som gjort inhopp under veckan